Kaytlynn & Richard
"Never rush into a relationship. Take it slow, become friends and mostly trust one another."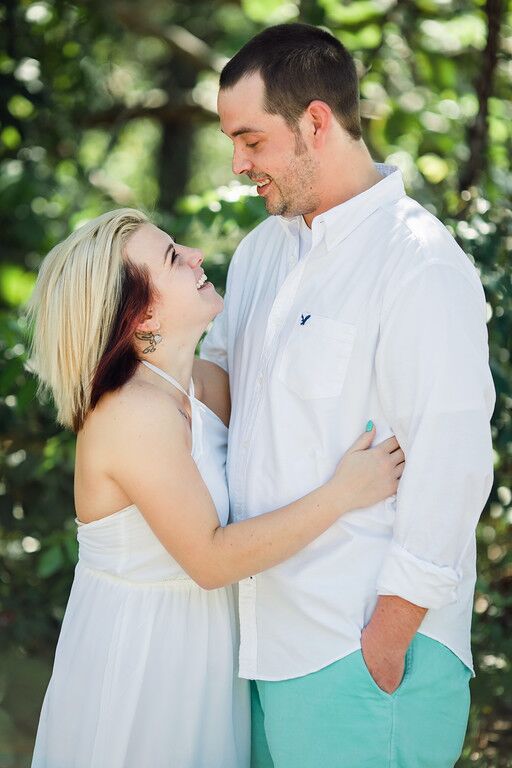 You can meet someone anywhere you go, but to meet the person you just... click with; is so much more. Richard "Matthew" is by far that person to me. Now I may be in my own head, however, personally I think we were made for each other. That's not because I do his laundry or he fills my flat tire kind of thing. Instead it's to have a disagreement, makeup then look at each other in the eyes and fall in love again is the sweetest thing. And that my friends is why he's MY person.
Let's rewind a little bit to the first time we met. Surprise! We had met at work. I just remember thinking he was just so cute and wanting to find out more on who he was. Eventually a week or two went by and I asked around, a now friend, told me he was a good guy. It was fate really, we saw each other on the yard at work, talked for a minute and then at that point I knew I had to make a move. Before leaving work I jotted down my number, gave it to my friend and he gave it to Matthew. Of course like the hoarder he is, Matt still has that piece of paper; how incredibly adorable? The next night we saw each other on the yard and then a few hours later we were going on an adventure to Virginia. Like the wanderlust I am, I didn't have a care in the world. As Matt said that weekend, "This will either make us or break us." It turned out to be the most unforgettable weekend and as of today 1,004 (6/13/2017) days of pure love. I wouldn't trade the blood, sweat, tears, and laughter shed through each day together.
Like my title, "take it slow, become friends." The first year he showed me his world. We went to Carolina Panther games, I learned the basics of poker and even flew in an airplane for the first time. The best part was all the quality time with one another, learning the likes, dislikes, past stories, future plans, and everything in between. It was like the "cupcake phase" on steroids. For months, we were just dating, if you will. We went on vacation and I finally asked him when we were ever going to "be official" because at the time, "If you aren't facebook official, is it even real?" In all reality, we just enjoy each others company, there's never a dull moment around with not just one but TWO extroverts.
That quote was chosen for the title for another reason. The second part, "mostly trust one another." Statistics show that you and your partner should have trust. Question is, "Do we trust each other?" Absolutely. We both trust one another. That's just one of the reasons why I have so much respect for Matthew and it makes "us"... us. To be able to talk to Matthew about everything is outstanding, at least I think so. To him, it may be too much, but hey, he really is my bestfriend. To be able to look someone in the eyes and tell them exactly how you feel is the most magical feeling I have ever felt in my life.
Love grows where trust is laid, and love dies where trust is betrayed.

"Whatever our souls are made of, his and mine are the same."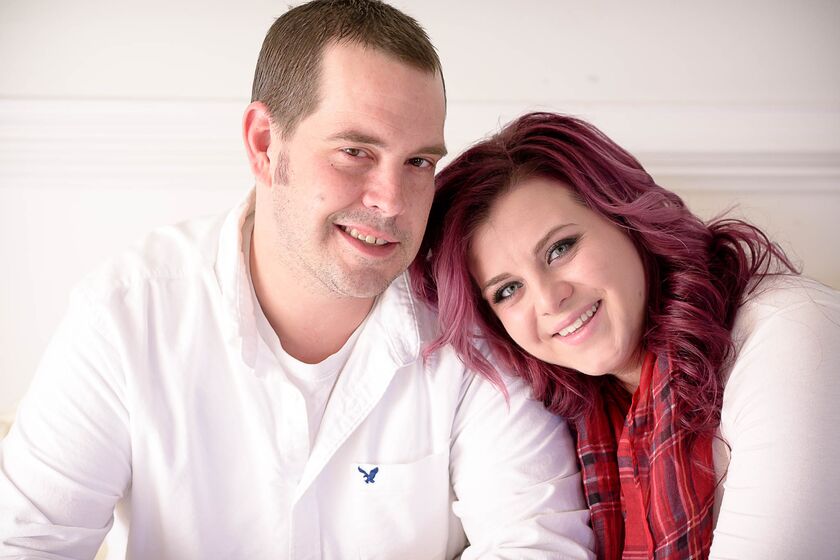 The second year together could be described by Matt as, "An adventure on mushrooms." What does that even mean? Our second year together was trippy? Okay Matt, just leave the writing of 'our story' to me. The second year was indeed more adventures, because in reality, who wants to actually grow up? All I know is the second year together, we went to almost every home Panthers game, well because #keeppounding. This is the year the Panthers went to the super bowl! In other words, I guess you could say that year of our lives together was actually 'an adventure on mushrooms.' All I know is that I was falling more and more deeply in love with Richard Matthew.
"Whatever our souls are made of, his and mine are the same." This. I can not repeat anymore but, this. To meet a person that has a heart as big as mine, loves as much as me, gives and gives... is my person. Wherever we are, whatever we are doing, it never fails that together we have one HUGE heart. This can be a positive thing just as much as a negative thing in our lives together but we will get to that in year three. All I know is that year two was all about family and friends. We enjoyed getting to know each others families on a more personal level and most of our adventures were spent with family and friends.
By the end of the second year together, I realized Matthew and I were so much more. He makes me want to be a better person and brings out the best in me. He's taught me and continues to teach me to not only to let things go but to be the bigger person. Another reason why I have that much respect for him. Not only has he brought the best out of me and continually does, but he's really shown me what its like to be an adult. Together we are one and have always thought that way. I can not thank Matthew enough for all the wonderful times, for all the care and support, and for the life he has given me.
Let joy be your compass.
"When you face difficult times, know that challenges are not sent to destroy you. They're sent to promote, increase and strenghten you."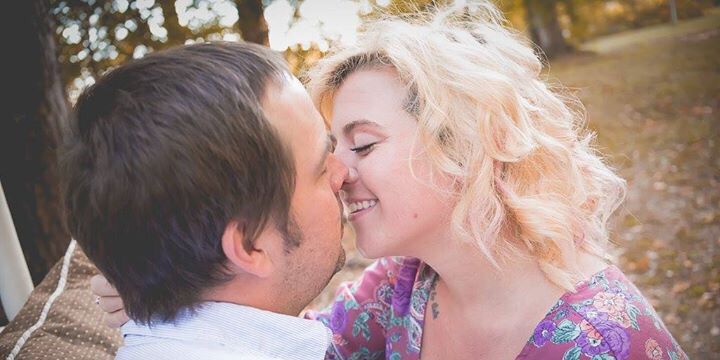 Ah! Yes, year three. I wish I could just skip this year but as of today, it is still in writing. This year has probably been the most difficult one for us yet, but as long as our lines of communication and forgiveness are there, we will continue to be one.
Now I can say this because I believe it is true, "All women are crazy, a man just has to choose the crazy he wants to be with." Yes, I can admit I am crazy, but I give it all to Matt for being one hell of a man to deal with me. We've so far delt with family differences, financial situations, job loss by choice, and goals that are currently in the making to dreams coming true. I can't sugar coat it anymore but I used to say it's crazy how we never fought and now it's like the first eight months of our third year has been nothing but knick picking. So why are we here, on the knot.com telling whomever all of this? Well one, because our love is too inseperable to be broken. Like I explained in the first year, it amazes me how as soon as we see each other, all of the madness gets thrown out of the window.
Again, why are we over here 'planning a wedding' if we have been arguing? It's not about the arguing; it's about what we can accomplish together as one, grow from our weaknesses, and love each other more than yesterday. These challenges are to help streghten us as a couple, correct? It isn't easy, but coming to the realization that your relationship is way more important than your differences. A relationship involves acts of forgiveness and acceptance of one's mistakes. We fight and then we learn something new about one another. Real relationships are not perfect and perfect relationships are not real. Matthew is so much more than my boyfriend, he's the one I want and need to talk to when I have a bad day, the one that always puts me first and has a shoulder to lean on. Our journey isn't perfect, but it's ours.
Eight out of twelve months down in year three, our love is as strong as ever and I can't wait to see what our future holds for us.
Be with someone who won't stay mad at you, who can't stand not talking to you, and who's afraid of losing you.
"A wedding is an event. Marriage is a life time. Invest more in your marriage than your wedding and success is inevitable."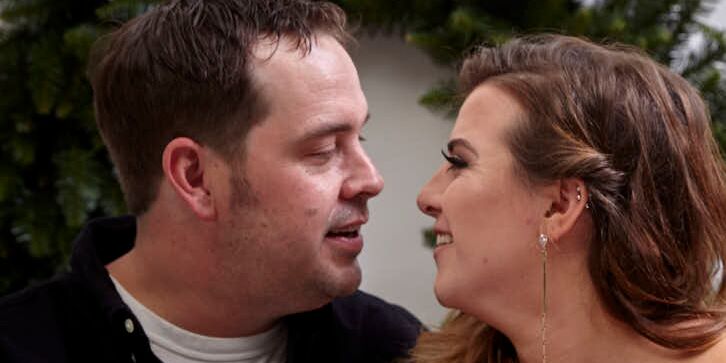 As we are going on our fourth year together, Matt and I have decided on forever and we are SO excited to make this next step in our lives. Some people may think we are crazy the way we are going about it and others may agree it's less stress and the best way to go! Leaving people in the dark about our engagement and soon to be marriage has been the best decision we have made. As much as we went back and forth between a beach wedding or courthouse; we have decided to not include anyone but our parents when we exchange vows. Besides, would it be an elopement if we spilled the beans? As the next year goes on, pieces of our love life will unravel and everything will make much more sense. We will say that on October 20, 2018, we will host a reception with our closest friends and family. As of today we have 361 days until one of the greatest memories of our lives and even if we are eloping, we definitely still feel the stress!
We don't just get to grow old together, but we also get to grow up together making that the real adventure. Marriage to us is about becoming a team and of course annoying each other for the rest of our lives. Marriage is about seeing your spouse completely vulnerable and still accepting them as who they are. We inspire each other; gone through things that are meant to tear us apart and come out and continually to come out even stronger. Whatever we lack, we will help each other. We will balance each other and be each others backbone and motivate each other. The best love is the love that makes you a better person. Love is a symbol of eternity and we can not express how excited we are to finally become Mr. and Mrs.
And I'd choose you; in a hundred lifetimes, in a hundred worlds, in any version of reality, I'd find you and I'd choose you.
"I'll pressure you, and listen to you,and argue with you, and love you until the day Idie. Together, we'll decide what is right, as husband and wife. Marry me. Say yes."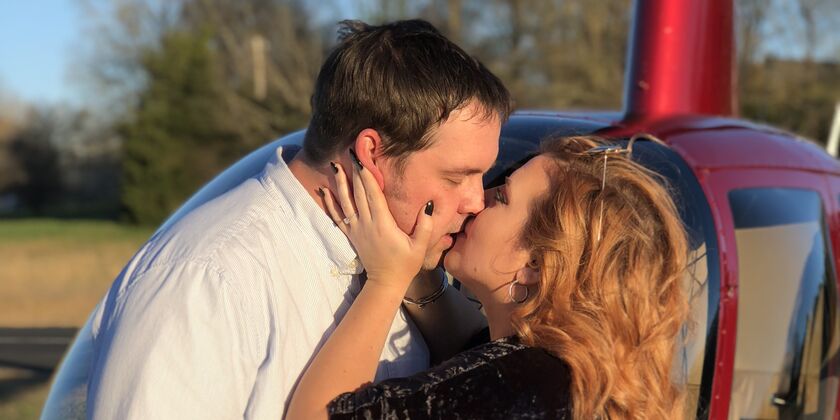 March 03, 2018; Matt asked me to get ready for dinner in Charlotte little did I know what he had planned for the evening. I absolutely hate surprises and he knows it but let me tell you how AMAZING the evening was. The whole ride I was so anxious, I couldn't keep still no matter how much I tried. We finally got to our destination and it was a random house. I was totally confused by it all; racking my brain as to what we were about to do. It was a little past four o'clock in the afternoon, I felt like dinner that early was a tad strange. In the driveway there was a truck and a golf cart so what the heck!? Finally, this man comes out and I read his shirt and it has 'Charlotte Helicopters' on it. At that very moment I got so giddy as I was shaking the pilots hand asking him if we were about to fly in a helicopter. We hop in the golf cart and take a small ride to the helicopter pad. Matt and I were super excited the whole time and birds eye view is spectacular. As we circled around Charlotte and the Bank of America Matt holding my hand and I was looking out the window taking it all in, Matt comes over the headset and says, "Kaytlynn will you please finally marry me?' and had a ring box in his left hand with a HUGE smile on his face. Seeing him light up like a little boy on Christmas was the cutest thing ever. I said yes as he replaced my promise ring with the engagement ring. I couldn't stop staring at him that he literally told me to stop and look at my ring and enjoy the rest of the flight. As soon as we were done having a glass of wine (or two) with the pilot we headed back to the city for dinner. We arrived at The Capital Grille and it was the best hospitality we have ever had. They escorted us to a table for two decked with two roses and heart confetti scattered on table with complimentary champagne. From compliments from the chef all the way to a complimentary dessert, everything was absolutely divine. Matt and I have been on a lot of adventures in our three in a half years of dating but we both agree, our engagement is by far our favorite!
Don't ever stop dating your wife and don't ever stop flirting with your husband.
BBQ, Brews, & Bad Dance Moves
Saturday, October 20, 2018
Attire: Bohemian Chic
Ceremony and Reception
Timberidge Lodge
7419 NC Highway 22 N. Climax, NC 27233
Dress real pretty, dress real fine, but you can leave your heels behind. Dress for comfort, dress for fun, 'Cause it's a party, when it's all said and done!
Dress Code Suggestions
Gentlemen: Pull out your best pair of slacks or khakis and pair it with a nice collared button down (please refrain from white.) For a complete look, you can accessorize with suspenders, bow tie, or a tie.
Ladies: A dress or maxi skirt that has movement with your best flip flops or sandals and you will fit right in. A great accessory could be a flower pinned in your hair or even a flower crown. Dress like if you are from the 1960-70's; carefree, free spirit.